Welcome to
ONKart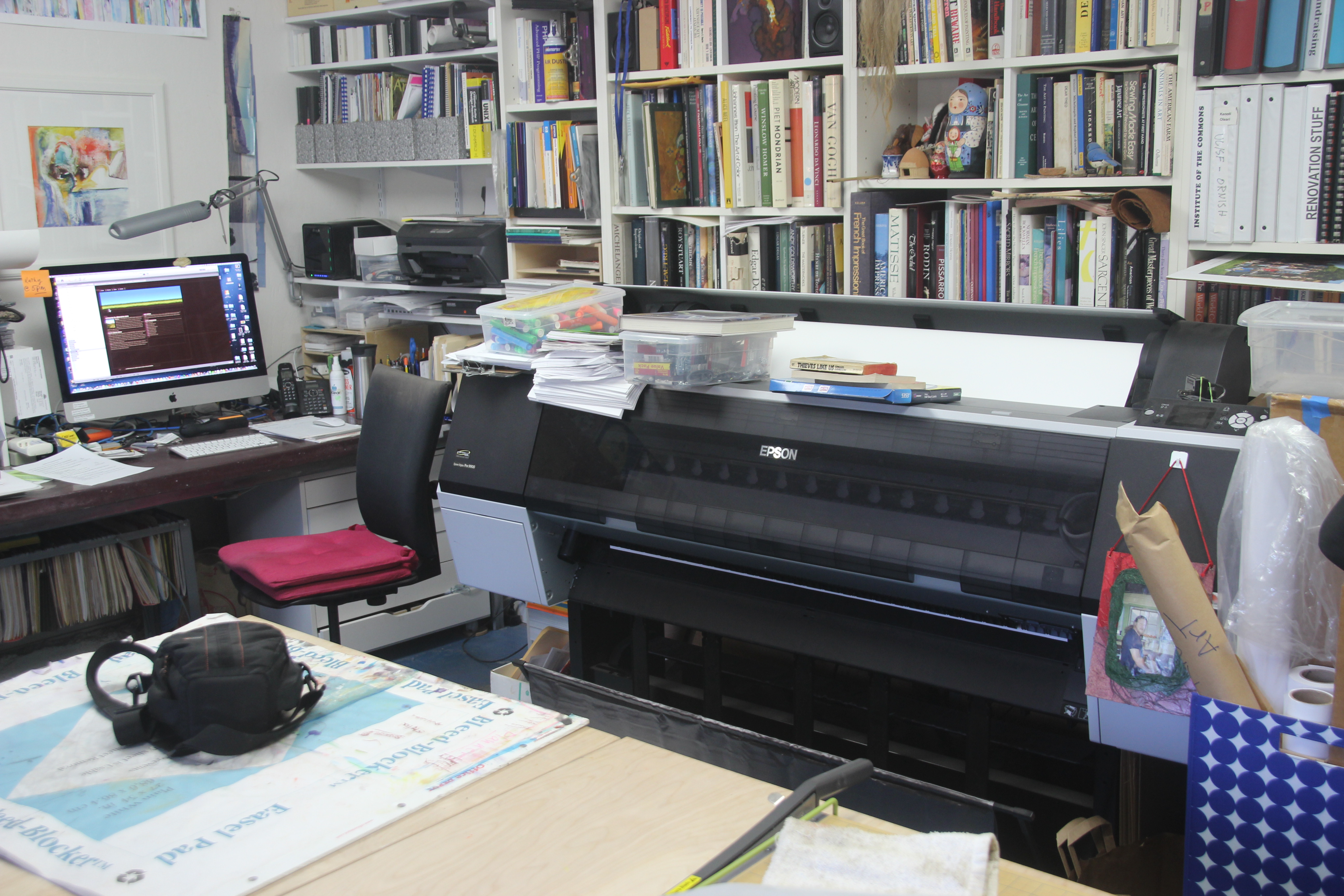 ONKart
was established to make high quality fine art giclees–both fine art reproductions and original giclee prints–available at affordable prices to local artists. We are conveniently located in West Contra Costa County, easily accessible to artists in the region.
Services & Fees:
Ask about discounts for Local artists
Giclee Prints
ONKart is a full service, fine art, giclee print shop.
Our price for printing reproductions and original art on our fine art paper, canvas and vinyl is $10/ sq. ft.. We can also scan your artwork into high definition digital images ready for printing, submissions to shows and more. Prices start at $25/scan. Most scans result in images that can be printed directly with good color accuracy; we will do minor color correction on scanned images. Additional image processing will be charged at our graphic art services rate (see below). We are happy to print from images that you bring to us, in which case, we will print from those images as is, unless you desire special color correction at our standard rate. To assure accurate color reproduction we use manufacturers color profiles or, when appropriate, our own profiles generated with state of the art spectrographic equipment. The price for printing on specialty materials will vary.
Scans of Your Artwork for Reproduction or Other Uses
Scanning Artwork:
Our
preferred method
for digitizing art is with our graphic arts flatbed scanner. Artwork of any size can be scanned at optical resolutions as high as 2400 dpi, making prints spring to life with the finest detail and making it possible to enlarge artwork many times. Color accuracy is assured through the use of scanner profiles created with state of the art spectrographic equipment and software.
Other Reproduction Related Services
Stretching Canvas: We stretch canvas to professional standards with various stretcher thicknesses. (Prices vary with size)
Framing: Ask us about aluminum or wooden frames.
Mounting prints on boards or other solid supports (Prices vary with size)
Installing Grommets: We can install grommets on vinyl for hanging as a banner or other purposes. ($1 per grommet for standard clear plastic grommets)
Clear UV Filter Coating: We can coat your canvas or vinyl paintings with a clear UV coating that will increase the longevity of the inks. ($2/sq. ft.)
Graphic Art Services
$50/hour or negotiated on a per project basis
Color correction and image processing of scanned or provided images
Special image cropping or preparation
Poster and flier design or layout
Other graphic arts services
Reproduction Equipment
Epson SureColor P9000 photo quality printer: The most recent model of Epson's museum grade fine art printers. The P9000 print head produces the finest resolution and its inks the highest pigment density of any printer on the market, producing prints with the highest possible detail and color density and accuracy.
Epson XL 10000 graphic arts scanner: generates digital images from originals of any size at a native optical resolution of 2400dpi with excellent color accuracy. High resolution scans can be enlarged many times without loss of resolution.
Xrite i1 Photo Pro 2 color spectrometer system: assures accurate ICC color calibration from scanner input to printer output.
Canon Photographic equipment and studio lighting calibrated with ColorChecker software and expodisk light metering: produces high quality photographically produced digital images with excellent color accuracy.
Archival ink & Supplies
Inks: We use the Epson inks designed for the P9000, which are estimated to produce printed images guaranteed to last 200-300 years. We have seen images printed on vinyl with similar inks last for years outdoors.
Paper & Other Supports: We stock a range of archival quality papers, canvas, vinyl and other media and can access additional supports through our suppliers including adhesive and polyester film, fabric, aluminum and other metals and more.
Staff
Kenoli Oleari: In the 1960s, Kenoli founded and operated the Jellyroll Press, an offset printing and graphic design facility that specialized in full color "psychedelic" posters, political and nonprofit publications. In addition to being a skilled printer, Kenoli is an artist, a website and graphic arts designer and a nonprofit consultant to agencies and nonprofits in participative public process.
Sharon Goods is a multi-media artist, curator and graphic arts designer. Click here to visit Sharon's web site.
Original Giclee Prints
As well as coming to ONKart for museum quality reproductions considering working with us as part of your artmaking process. We work with artists to modify, crop, enlarge, re-scan and otherwise develop a final work of art, combining hand work and digital process. Consider Giclee a form of printmaking, like lithography, or etching. Or include it in your photography process for producing large negative films from which contact prints can be made. We can work with you on an hourly or negotiated basis. Go here for more information
El Sobrante Valley Artists in Community
ONKart is pleased to be an associate of El Sobrante Valley Artists in Community. While not known as a center for the arts, the El Sobrante Valley is home to many established and emerging artists. It is the mission of Valley Artists in Community to support activities that will raise the visibility of the El Sobrante Valley as a cultural and economic center of the East Bay.
Header art by
Sharon Goods:
mynightkitchen.com