Learn Digital Printing Skills at
ONKart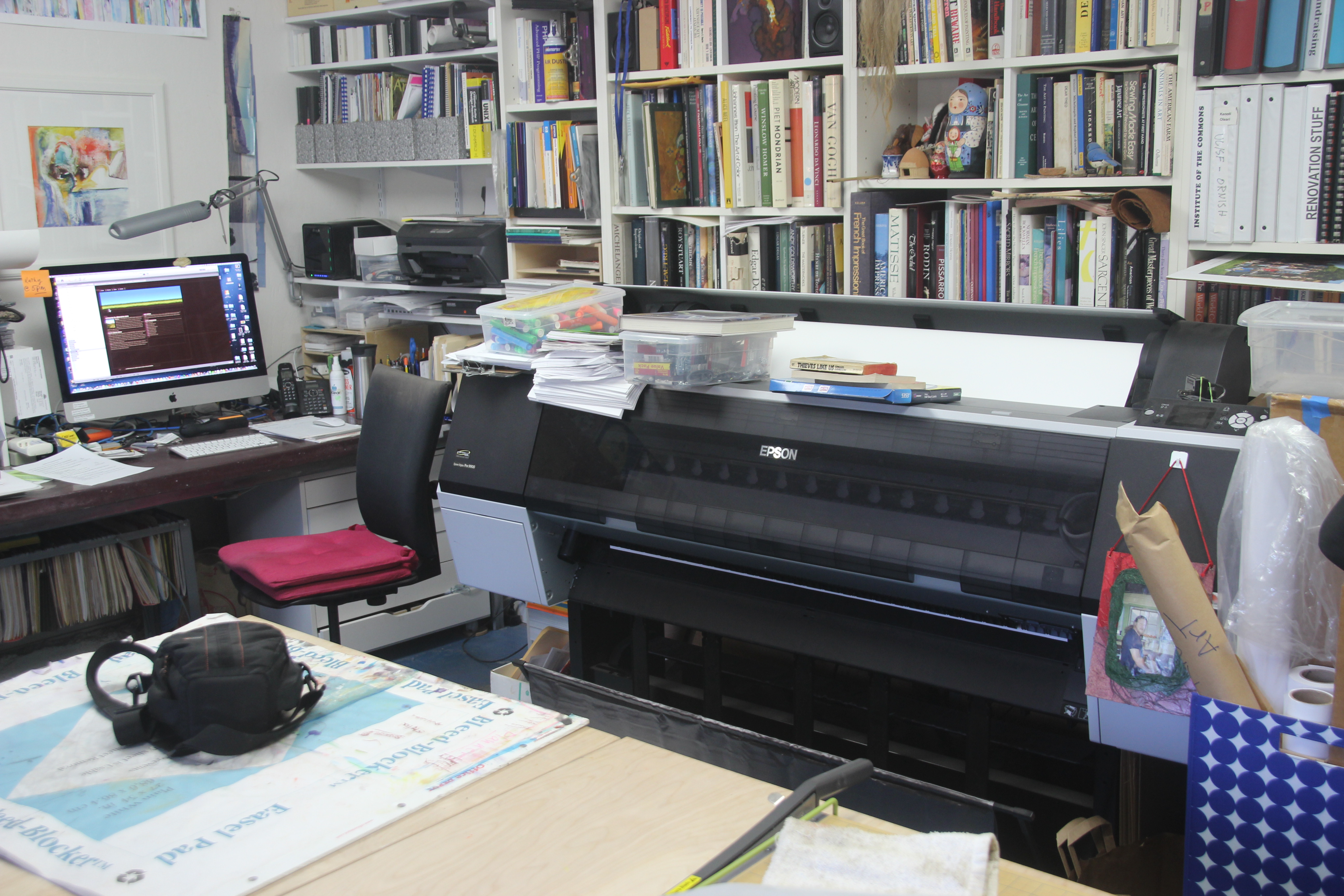 Individual training and classes available.
Cost:
Studio time: $50/hour.
Classes: Inquire about class availability and cost.
Creating original prints from cropped, modified or enlarged original art.
Modifying and printing your original art or photography.
Using high tech spectrographic equipment to produce scanner, monitor and printer profiles.
Color correction in camera reproduction of art objects.
Creating original art on ipads and iphones and outputting as fine art giclee prints.
Fine art media available to artists making prints at
ONKart
Stretched smooth or textured canvas
Hot and cold pressed, smooth or texture fine art rag or other kinds of paper media
Scrim vinyl or other outdoor media
Various kinds of cloth including, silk, cotton or synthetic materials
Clear or translucent film for use in light boxes or even as contact "negatives" for traditional chemical development.
Other media capable of being fed through the giclee printer can be coated and mounted on a stiffening media as media for creative fine art originals.
Equipment available at
ONKart
Epson 9900 Graphic Arts printer: one of Epson's finest state of the art giclee printers produces the highest quality fine art reproductions
Epson XL 10000 graphic arts scanner: generates high resolution images with good color accuracy that can be enlarged many times without loss of resolution.
Xrite i1 Photo Pro 2 color spectrometer system: assures accurate color calibration from scanner input to printer output
Canon Photographic equipment and studio lighting calibrated with ColorChecker software and expodisk light metering: produces high quality digital images with excellent color accuracy.
Photographic mounting and lighting equipment for photographing artwork or other art targets.
High speed imac computer with 24GB of DRAM and 2048MB of graphics memory, as well as the latest Adobe and other graphics software.
Tools for cutting, mounting framing, grommeting all art media.
Archival ink & supplies
Our standard inks are archival pigment inks and our supports are all acid free, archival supports. Supports for art reproduction are primarily 100% cotton rag. Dye inks and other supports available upon request.